Greenbrier County Assessor's Office
MENU
General Info
    Phone: 304.647.6615 – Fax: 304.647.6667
Joe Darnell, Greenbrier County Assessor
jdarnell@assessor.state.wv.us
912 Court Street North, Lewisburg, WV 24901
The County Assessor is an elected office with a term of 4 years. The assessor's primary responsibility is the appraisal of real estate and personal property, and the management of tasks associated with county taxes.
All property shall be appraised annually as of the first day of July at its true and actual value. The assessor shall obtain from every person who is liable to assessment a full and correct description of all personal property. Assessors are required to visit all real estate at least once every three years but all property is to be at market value on an annual basis. The assessor shall finish the work of assessment and complete the land and personal property books not later than the 30th day of January.
Land and personal property books are to be completed in time to submit to the Board of Equalization and Review no later than the first day of February of that assessment year. The assessor and assistants shall attend the Board of Equalization and Review and render any possible assistance in connection with the valuation of property.
The assessor shall annually, not later than the third day of March, furnish to the Recorder or Clerk of Cities and Towns, Secretary to the Board of Education, State Board of Education, and the County Commission, along with Public Utilities, certification of the assessed values for the current year. The levying bodies are required to use these values to prepare their budget estimates and lay the levies. Once levy rates are certified to the Auditor, they are certified to the Assessor and are entered into the computer to allow the Sheriff to print tax tickets. Assessors determine values and in turn, the levies set by levying bodies, including excess levies, determine tax revenue.
Search Parcels by Parcel ID, Owner and Address.
View and Print Maps containing Greenbrier County parcels, roads, hydrography, soils and aerial imagery. View parcel's Parcel ID, Owner, legal description, neighborhood, deed book and page, appraised land value, appraised building value and appraised total by clicking on the parcel with the select tool. To measure area or distance use the Measure feature in the Task List drop down menu on the upper right corner.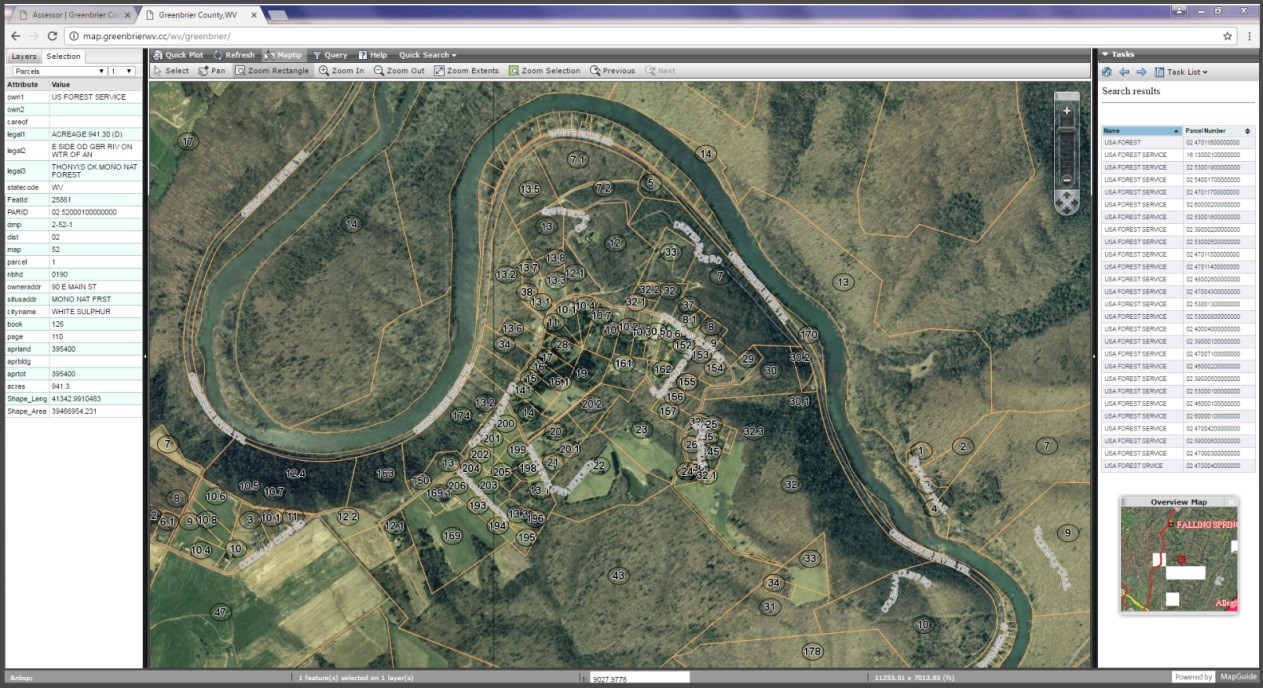 For additional Mapping or GIS information please contact:
Tonya Brown-Head of GIS Mapping
email
304-647-6645
Or
Jeff Dillon-GIS Coordinator
email
304-647-6691
Click on the banner below to view and pay tax bills through the Greenbrier County Sherriff's Tax Office.